Social networks keep on growing and diversifying. Their importance as a traffic source is more and more at the center of attention for marketeers and other Traffic and Ecommerce managers. But what is the actual weight of social traffic in Belgium today?
At Semetis we love the strength of Google Analytics to access actionable and qualitative data. We have analyzed and compiled statistics relative to social media traffic in order to establish a Belgian benchmark. Our study concerns Belgian online traffic on a vast sample of websites from a variety of industries.
We call social traffic traffic coming from Facebook, Twitter, Linkedin, Youtube, Reddit, Digg, Delicious, Stumbleupon, Flickr, Myspace and Badoo. We have made sure to treat the data as to lessen the eventual impact of Facebook ad campaigns that could have distorted the trends.
Extremely low numbers
In 2010, traffic coming from social media to a Belgian website barely represented 0.08% of total traffic! this figure more than doubles in 2011 to reach 0.17% on average (based on a sample of several million visits per month).
Although quite low, the proportion of social traffic is growing. It goes from 0.15% to 0.23% in a twelve months timeframe.
Is it the case for each kind of website?
This observation applies globally to our sample. There are, however, differences amongst industries. Social traffic seems to have a much bigger impact on publisher type websites. this trend is also confirmed in a recent study by Nielsen Company et PEJ Research (article here).
Generaly speaking, Belgium is more in line with IBM's benchmark data about Cyber Monday in the USA (28 November 2011). According to their report, 0.56% of online sales were generated by shoppers coming from social networks.
http://www.coremetrics.com/downloads/benchmark-2011-cyber-monday.pdf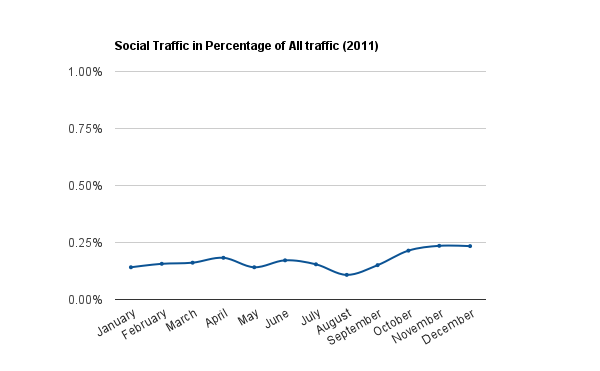 Facebook, the leading actor
Facebook is not the only social media to engage online users, but it is the one we talk about the most. What is it's place as a traffic source in comparison to the other social media?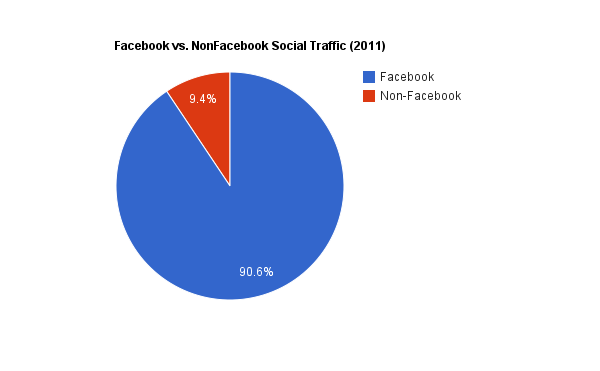 As with social traffic as a whole, Facebook's traffic proportion has also evolved. If Facebook represented 83% of social traffic in 2010, it was almost 91% of social traffic in 2011. Facebook therefore confirms its leadership in Belgium while grasping an ever increasing proportion.
What role for Facebook in an online strategy?
Beyond its leadership amongst social networks, Facebook remains particularly attractive due to its qualitative socio-demographic data. However, Facebook is not a gateway to the rest of the Internet as are search engines. The figures above confirm this statement.
Facebook remains the destination of an online visit. For most websites and industries, it doesn't play a major role as a traffic source. Indeed, the recommendations, discussions, and other interractions that members can spontaneously have on a platform don't bring much traffic outside of the platform with the exception of some content such as press, blogs and videos.
Pages and communities ?
On the other hand, the management of a Facebook page's activity - and therefore of a community - can be considered as a communication tool to increase the loyalty of existing clients, and not so much as a channel for direct sales or the generation of new leads. In this way, we consider Facebook itself as a kind of more flexible publisher/forum with its qualified audiences.
We see Facebook pages as extensions of a website, with their limits and advantages. On the limits side, it is clear that the control and the richness of the experience will be maximized on the marketeer's own website than on a simple Facebook page. As far as the advantages go, the potential of the network effect, and the frequent visits are undeniable. A great deal of Facebook users connecting on a weekly, or even daily basis. These are as many opportunities to appear in their newsfeed.
Advertizing model
Concerning advertizing, the Semetis experience tells us that Facebook lies somewhere between classic Display, and direct Search marketing. We like to consider it as highly qualified branding thanks to the quality of the information available about the users. On the other hand, Facebook users don't log in with intentions of purshasing anything as they might do on search engines where they can directly search for something.
Facebook can develop as a traffic source in this advertizing model, with objectives of activation awareness and communication.
A playing field for developpers
Finally, we have identified two other Facebook universes requiring different skills. It concerns what regards web development. On the one hand, there is the development of applications directly on Facebook in order to enrich its pages. On the other hand, there is the integration of Facebook data (Social Graph) on a website in order to enhance the user experience with personnalized recommendations for example. Amazon has been working on this idea, unsuccessfully so far.
(http://techcrunch.com/2010/07/27/amazon-now-taps-into-facebook-for-social-product-recommendations/)
What future for social traffic?
As a general rule, social media ar far from being the traffic source that we could have imagined. the trend is, however, upward. It will be interesting to keep an aye on this phenomena that will englighten us on the evolution of online behavior in Belgium in 2012.
At Semetis, we believe that with time, Twitter, Facebook, Youtube, Google+ and others will find a good balance and co-exist, each having a unique usefulness and sphere of activity. These networks represent many opportunities, but they also require a lot of substantive work and a long term vision in order to see a return on investment.
We have identified four environments, each requiring particular competences: 1) Community Management, 2) Advertising, 3) Facebook Apps, 4) On website Facebook integration.
The short term challenge today lays in the capacity of marketeers in Belgium to position their businesse on social networks, to establish a continuous and coherent presence, and to maintain an engaged community.
written by Nicolas Debray and Julien Cornet